News
---
Mar 12, 2014
Users warn EU e-cigarette controls could cost lives
Users warn EU e-cigarette controls could cost lives
Supporters say electronic cigarettes are saving thousands of lives, detractors believe they could be dangerous and are making smoking seem sexy. But following a decision in the European Parliament their availability will be restricted in the future. MEPs voted to introduce new regulations which will control what kind of e-cigarette can be sold in member states.
For many smokers they have been the key to them giving up as they replicate the smoking experience much better than nicotine patches, gum and sprays. But some doctors have been concerned that there may still be long-term health problems from using them. Some campaigners also fear that e-cigarette use in public is normalising smoking again and may end up being a gateway to tobacco for young people.
"We should be encouraging people to take up e-cigarettes not making it more difficult to obtain them" Martin Callanan MEP - Conservative, North East The European Parliament hasn't banned their use. But it is going to impose restrictions on the kind of e-cigarette that can be sold. In particular, users - or vapers as they call themselves - will no longer be able to get some of the reusable and refillable devices that deliver the biggest nicotine hit.
The growing community of vapers believe it's an assault on a product that is saving their lives by removing the temptation of tobacco. Improving health
Christena Heseltine from North Shields in Tyneside has been using e-cigarettes for five years. She credits them with improving her health, but she also enjoys them. Her daughter Kirsteen is another user, and husband Ron, who has terminal oesophageal cancer, has recently joined them. It's unclear whether smoking caused his cancer but vaping has allowed him to continue to enjoy nicotine without smoking. Christena is outraged at the European Parliament's decision. She thinks it'll ramp up costs for vapers but also make it impossible to obtain the high-nicotine devices she often uses. She says many frustrated users will go back to smoking, while others - her included - may look to the black market. The Heseltine family using their e-cigarettes Kirsteen, Ron and Christena Heseltine all swapped tobacco for e-cigarettes She said: "I'll be forced to break the law, become a criminal, and that is scary. "The vaping community has worked hard to make sure it's as safe as possible. We have worked with trading standards to ensure the nicotine juices are safe and properly labelled. "But now if I go to the black market, I won't know whether the nicotine I'm getting is safe, so the work we have done will have been for nothing.
." Wrong direction"
Vapers did have some allies in the European Parliament. North East Conservative MEP Martin Callanan, fought against the EU proposals, and is disappointed most of his colleagues backed them. He said: "This is going in completely the wrong direction. E-cigarettes have the ability to convert thousands of smokers to vaping as they call it. That is a thousand times safer than smoking tobacco cigarettes. "These regulations are really quite light-touch" - Ailsa Rutter, Director, Fresh North East "As a harm reduction measure we should be encouraging people to take up e-cigarettes not making it more difficult to obtain them. This is a very bad day for public health." Fresh North East was set up in 2005 to tackle the problems caused in an English region with the highest death rates for smoking-related diseases. They do see a role for e-cigarettes in weaning people away from tobacco, but have been concerned about how they've been advertised. Director Ailsa Rutter believes the regulations won't stop e-cigarettes being available for the people that want them. She said: "These regulations are really quite light-touch.
Elsewhere in the world, some people want them banned and Fresh certainly wouldn't support that. "What we want to see is them being even better quality and safer. We are concerned about children getting hold of them at the moment. Some may have very high doses of nicotine in them, in others people may be being ripped off as they have no nicotine present at all. "From a consumer perspective, this is a step in the right direction."
None of that will cut much ice with the vaping community though. They believe the freedom to enjoy e-cigarettes is under assault. But more importantly they also feel the EU has undermined what they see as the most successful way of cutting the number of smoking-related deaths.
---
Sep 11, 2013
STOPTOBER 2013 IS COMING
What is Stoptober?
Stoptober is a campaign by Public Health England (PHE) which is dedicated to encouraging people to quit smoking.
Over 8 million people in England smoke and it remains the nation's biggest killer, with half of long-term smokers dying prematurely from a smoking-related disease. Research shows that those who stop smoking for 28 days are five times more likely to stay smokefree and Stoptober's ambition is to help smokers achieve that goal.
Promotion of the campaign in England and Wales has already begun, giving people who want to quit time to prepare themselves for October 1st.
Was last year's challenge successful?
The organisers say last year's challenge was a huge success. In 2012 more than 275,000 registered for Stoptober and 160,000 of them completed the 28 day challenge.
It's because of this they've launched the second Stoptober. They say they want every smoker to consider making a quit attempt this October so they can join the thousands of people who are feeling the benefits from stopping smoking last year.
Why would this work when other quit smoking strategies have failed?
Stoptober is all about supporting and encouraging each other to quit and it maintains momentum. You get a surge of people quitting on New Year's Day and in March on No Smoking day but then there's a void. Stoptober plugs that gap and because it's a mass participation event those taking place know they're not alone.
---
Sep 10, 2013
Electronic Cigarettes are at least as effective as nicotine patches
BBC News 8th September 2013
A team at the University of Auckland, in New Zealand, conducted the first clinical trial comparing the devices with nicotine patches in 657 people.
The results published in the Lancet showed 7.3% using e-cigarettes had quit after six months compared with 5.8% using patches. However, the study did not involve enough people to definitively prove which is the better option.
The key message is that in the context of minimum support, e-cigarettes are at least as effective as nicotine patches. "
Prof Peter Hajek
Queen Mary University of London
After six months, however, the 57% of e-cigarette users had halved the number of cigarettes smoked each day compared with 41% in those using patches.
'Increasing popularity'
Prof Chris Bullen, from the University of Auckland, said: "While our results don't show any clear-cut differences between e-cigarettes and patches in terms of 'quit success' after six months, it certainly seems that e-cigarettes were more effective in helping smokers who didn't quit to cut down.
"It's also interesting that the people who took part in our study seemed to be much more enthusiastic about e-cigarettes than patches.
"Given the increasing popularity of these devices in many countries, and the accompanying regulatory uncertainty and inconsistency, larger, longer-term trials are urgently needed to establish whether these devices might be able to fulfil their potential as effective and popular smoking cessation aids."
Regulations around the world are catching up with the surge in the popularity of e-cigarettes. The EU and the UK are both working towards regulating e-cigarettes in the same way as medicines.
The products also divide opinion with some arguing they normalise smoking and others saying they may help people to give up.
Prof Peter Hajek, the director of the Tobacco Dependence Research Unit at Queen Mary University of London, described the study as "pioneering".
"The key message is that in the context of minimum support, e-cigarettes are at least as effective as nicotine patches.
"E-cigarettes are also more attractive than patches to many smokers, and can be accessed in most countries without the restrictions around medicines that apply to nicotine replacement therapy or the costly involvement of health professionals.
"These advantages suggest that e-cigarettes have the potential to increase rates of smoking cessation and reduce costs to quitters and to health services."
---
Jun 4, 2013
Police force allows e-cigarettes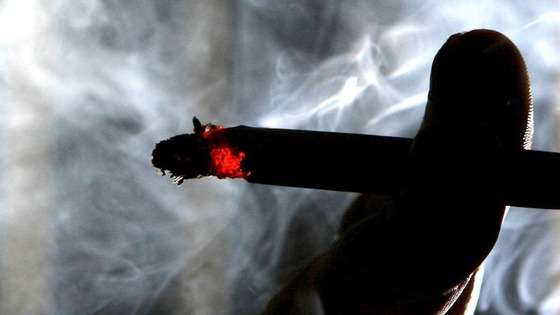 Credit: PA Archive/Press Association Images
A police force has become the first in Britain to allow officers to smoke e-cigarettes.
The electronic inhalers have been banned by some organisations amid fears they're still bad for health.
They turn a liquid solution into safe smoke and contain a small amount of nicotine, but not the dangerous tar.
Cambridgeshire Constabulary has now decided that staff can smoke them, saying their benefits outweigh the disadavantages.
A force spokesman said: "Following discussion which considered both pros and cons of both visibility and health it was agreed that use of electronic cigarettes would be permitted on police premises although not in front-facing areas such as enquiry offices."
However Addenbrooke's Hospital in Cambridge has banned e-cigarettes from their premises.
E-cigarettes were first invented in China in 2003 to combat smoking bans and are designed to give the same sensation as a regular cigarette.
---
Dec 11, 2012
Electronic Cigarettes Are The Future - According To Smokers Utopia
Smokers Utopia has made claims that a lastest study suggest that an electronic cigarette may well be the future of smoking.
With various trials, studys and test over the last few years, reports have suggested that electronic cigarettes seem to be the only nearest product to smoking an actual tobbaco cigarette, as no known Pharmaceutical or alternative remedy is anywhere near enough in matcing the qualitys of an electronic cigarette.
This is maybe one of the main reasons it is thought that the major Pharmaceutical companies are hundreds fo millions into so caled anti electronic cigarette groups, due to the growing scientific evidence that supports electronic cigarettes and a true alternative.
Out of various test, the evidence shown to be negative has since been shown to lack true evidence and substance, and guess who these reports were funded by, the major drug companies to try and break the publics confidence in electronic cigs.
Smokers Utopia are one of the e cigarette reviews websites in the United States of America.
---
Nov 7, 2012
Women smokers who quit by 30 'evade earlier death risks'
Health and science reporter, BBC News
Women who give up smoking by the age of 30 will almost completely avoid the risks of dying early from tobacco-related diseases, according to a study of more than a million women in the UK.
The results, published in the Lancet, showed lifelong smokers died a decade earlier than those who never started.
But those who stopped by 30 lost, on average, a month of life and if they stopped by 40 they died a year younger.
Health experts said this was not a licence for the young to smoke.
The study followed the first generation of women to start smoking during the 1950s and 60s. As women started smoking on a large scale much later than men, the impact of a lifetime of cigarettes has only just been analysed for women.
"What we've shown is that if women smoke like men, they die like men," said lead researcher Prof Sir Richard Peto, from Oxford University.
He told the BBC: "More than half of women who smoke and keep on smoking will get killed by tobacco.
"Stopping works, amazingly well actually. Smoking kills, stopping works and the earlier you stop the better."
Early death
The records from 1.2 million women showed that even those who smoked fewer than 10 cigarettes a day were more likely to die sooner.
Sir Richard said that it was exactly the same picture as for men.
The British Lung Foundation said the prospects for long-term health were much better if people stopped smoking before they were 30, but cautioned that this was not a licence to smoke "as much as you want in your 20s".
Its chief executive, Dr Penny Woods, said: "Stopping smoking can also be difficult to do - an estimated 70% of current smokers say they want to quit, so you shouldn't start and just assume you'll be able to quit smoking whenever you want to.
"The best thing for your health is to avoid smoking at all."
Prof Robert West, from the health behaviour research unit at University College London, said it was important to remember that smoking had more effects on the body than leading to an early death, such as ageing the skin.
"Around your mid-20s your lung function peaks and then declines. For most people that's fine - by the time you're into your 60s and 70s it's still good enough. But if you've smoked, and then stopped there is irreversible damage, which combined with age-related decline can significantly affect their quality of life.
"Obviously there is an issue around smoking if they want to get pregnant because it affects fertility and then there are the dangers of smoking during and after pregnancy."
The chartered health psychologist, Dr Lisa McNally, who specialises in NHS stop smoking services, also emphasised other factors.
Speaking to BBC News, she said: "There's the danger isn't there that people could almost take permission to continue to smoke to 30 or even to 40, but actually in my experience younger women quit smoking for other reasons other than life expectancy.
---
Oct 16, 2012
Smoking in the car 'breaks toxic limit'
Smoking in the car, even with the windows open or the air conditioning on, creates pollution that exceeds official "safe" limits, scientists say. Any child sitting in the back of a car when someone in the front is smoking would be exposed to this. A Scottish team who took measurements during 85 car journeys found readings broke World Health Organization limits, Tobacco Control journal reports. The British Medical Association says all smoking in cars should be banned. Currently, it is legal in the UK.
'Civil rights'
Children are particularly susceptible because they have faster breathing rates, a less developed immune system and are largely unable to escape or avoid exposure to second-hand smoke, says Dr Sean Semple, of the University of Aberdeen. Using a device strapped to the back seat of the car, the researchers logged and then analysed air quality data during a number of journeys ranging from about 10 minutes to an hour in duration. In 49 of the 85 journeys in total, the driver smoked up to four cigarettes. During these 49 smoking journeys, levels of fine particulate matter averaged 85µg/m3, which is more than three times higher than the 25µg/m3 maximum safe indoor air limit recommended by the World Health Organization. Even if the driver smoked only one cigarette and had the window wide open, particulate matter levels still exceeded the limit at some point during the journey. On average, the level of second-hand smoke was between one-half and one-third of that measured in UK bars before the ban on smoking in public places came into force. Levels averaged 7.4µg/m3 during the 34 smoke-free journeys. The research authors say: "The evidence from this [research] paper is that second-hand smoke concentrations in cars where smoking takes place are likely to be harmful to health under most ventilation conditions. "We believe that there is a clear need for legislation to prohibit smoking in cars where children are present."
But Simon Clark, director of the smokers' lobby group Forest, says: "We don't encourage adults to smoke in a car if small children are present, out of courtesy if nothing else, but we would strongly oppose legislation to ban smoking in cars. "According to research, 84% of adults don't smoke in a car with children present so legislation to ban it would be disproportionate. "In terms of civil rights we are entering difficult territory. For most people a car is their private space. If you ban smoking in cars with children, the next logical step is to ban parents from smoking in the home. "Parents must be allowed to use their common sense, and most of the time they do. There is no need for further regulation."
But Prof John Britton, chair of the Royal College of Physicians Tobacco Advisory Group, says a ban is necessary to protect children. He said estimates suggested that each year passive smoking in children accounted for more than 20,000 cases of lower respiratory tract infection, 200 cases of bacterial meningitis, and 40 sudden infant deaths. And last November the British Medical Association said an outright ban - even if there were no passengers - would be the best way of protecting children as well as non-smoking adults.
---
Sep 18, 2012
'STOPTOBER' 2012 is the time to stop smoking.
That's right. From the 1st of October 2012, the government of England is urging smokers to quit smoking by making the 28 in October the month to quit.
Modern research proves that people who are able to quit smoking for a period of time, are the ones less likely to restart smoking and quit for good.
Professor Dame Sally Davies, who is England's Chief Medical Officer, announced that this is the first time the government had launched a "mass quit attempt".
The campaign will be advertised by TV and radio, as well as a daily messaging service and road shows all around the country. For the modern techies there is a 'stoptober app' for all major mobile phones and tablets, plus a Facebook page.
The England Health Minister who quit smoking last week, Norman Lamb, told the BBC Breakfast show that the campaign 'was a good investment in health promotion', "I think it is well worth trying this approach," he said, adding "and if we can get people working locally together collectively to give up, we can have a real impact."
The Director of tobacco studies at University College London, meanwhile told the BBC Radio 4's Todays Programme, that cigarette smokers tended to stop "in clumps", and that "we are social animals, we are herd animals and we are influenced by each other".
Robert West also added "so I think there's a good reason to believe setting up a mass movement, if you like, would give you a bit of extra bang for your buck".
Jean King, who is the Director of tobacco control at Cancer Research UK, who are backing the 'stoptober' campaign said, "Smoking accounts for one in four cancer deaths and nearly a fifth of all cancer cases so it's vital that work continues to support smokers to quit."
"Breaking the addiction is difficult, so new and innovative campaigns such as this are hugely important."
She added: "It's key that smokers don't give up trying to give up."
Breaking the addition is an extremely hard battle, but once broken the path to living a healthier life is a better one, but also the financial implications are very rewarding.
With the average cost of a packet of 20 cigarettes being £7.50, the weekly cost of smoking 20 a day will be £105.29 a week, monthly that accounts for £456.26 and yearly a whopping £5475.08. Just think what you could do this this money which you are literally sending up in smoke.
Many smokers are turning to various quit smoking aids like patches, but one of the biggest areas of growth in the quit smoking aids market are electronic cigarettes.
The last two years has seen a dramatic rise in the number of electronic cigarette providers, as manufacturing looks to take full advantage of the popularity of electronic cigarettes.
Statistics from the industry are hard to come by, but the ECCA, Electronic Cigarette Consumer Association, claims the industry in 2011 was worth between £5m to £10m, with a few firms in the UK declaring annual earning of over £1 million in the UK alone.
The ECCA have announced that with the current UK growth, this market will grow year on year to 2014 by 50% per year.
Additionally by the end of 2012, some 400,000 to 600,000 smokers will be using electronic cigarettes, though it has a long way to go yet to catch up with the 10m to 12m tobacco smokers in the UK.
One company in the UK who are rapidly growing in the market sector are Cigees.com.
Their very successful brands of electronic cigarettes including the most popular electronic cigarettes the 'classic', with the 'Epic', 'Majestic' and the 'Femme' following very closely in sales.
Peter Davy, the Director of the company and also the inventor of the Cigees brand of electronic cigarette products, was once a smoker himself, but like many others wanted to kick the habit, but rather than like most people buying patches or using other quit smoking aids, Peter developed and produced his own specific range of e-cigarettes, which the Cigees brand has many unique features to other brands on the market.
Cigees.com is also endorsing the UK's 'stoptober' government initiative, by giving a 15% discount to all purchases from their online website http://www.cigees.com. This special offer is available now and all the way through to the end of October 2012, when the government initiative concludes.
---
Sep 13, 2012
Stoptober campaign will encourage smokers to quit for 28 days
CIGEES WILL BE OFFERING A DISCOUNT OF 15% ON ALL PRODUCTS FROM NOW UNTIL 31st OCTOBER 2012 TO SUPPORT THE STOPTOBER CAMPAIGN. CUSTOMERS JUST NEED TO ENTER THE DISCOUNT CODE "STOPTOBER" ON THE SHOPPING CART PAGE.
8 September, 2012 Smokers are being asked to give up smoking for 28 days from 1 October in the first ever mass quit attempt launched today by the Chief Medical Officer Professor Dame Sally Davies.
The innovative campaign, STOPTOBER, is backed by Cancer Research UK and the British Heart Foundation, and is the first 28-day quit attempt of its kind to encourage the nation's 8 million smokers to give up.
People who stop smoking for 28 days are 5 times more likely to stay smokefree, so smokers who sign up will be given support and encouragement throughout the month. They will be able to download the Stoptober app (available free from the Smokefree website) and access the Smokefree Facebook page where they will get additional tips and advice.
They will also get a daily message providing additional support and encouragement throughout the month. Smokers interested in giving up can search for 'Stoptober' online, or ask their local pharmacist for a free support pack. Smoking remains the biggest cause of premature death in England and is responsible for the loss of more than 100,000 lives in the UK every year.
---
Aug 29, 2012
Cigarette Plain Packaging Law Upheld By Australia's Highest Court.
The highest court in Australia has upheld a new government law on how a cigarettes packaging should look. This includes the packets colour, brand removal and logos.
The new law requires that cigarettes are to sold only in an olive green packages, with graphics showing the stark warnings that smoking tobacco brings heath wise.
Leading global tobacco manufactures which include, British American Tobacco (BAT) and Philip Morris, had challenged the law unsuccessfully.
The new law will be implemented on December 1 2012.
Long term this will help pave the way for the growing market of electronic cigarettes, as the law clamps down further on traditional cigarette smokers.
---